This article or section is Under Construction.

The information contained within this article should not be considered to be fully accurate until the article contributor(s) have removed this tag. You can help the Amy Rose Wiki by contributing to it.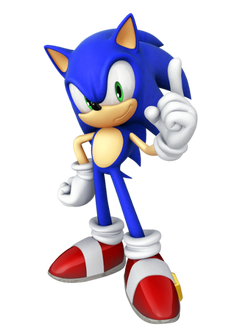 Sonic the Hedgehog is the main protagonist of the Sonic the Hedgehog series and Sega's mascot. He is a 15-year-old, blue, anthropomorphic hedgehog, and is a laid-back and cool-headed character, meant to symbolize peace. Like his name and species would imply, Sonic can move at the speed of sound and exceed it, and has lightning fast reflexes to match (hence his name), and can as well curl up into a ball (like a regular hedgehog), primarily to attack enemies. These are the distinguishing traits that were used to make his character and world-famous video games.
Well-known for his legendary cocky attitude, easy-going demeanor and somewhat short temper, yet strong sense of justice and love for freedom and adventure, Sonic uses his abilities to protect the innocents and his world (as well as many others) from the forces of evil, especially his arch-nemesis Doctor Ivo "Eggman" Robotnik, who seeks to dominate the world.
History with Amy
Edit
In Sonic CD, Sonic went to Little Planet while it was near Sonic's home world once a year in order to explore it. However, he found that Dr. Robotnik had transformed it into a mechanical wasteland and chained it to a nearby mountain. Climbing the large chain that held the planet down to Earth, Sonic traveled to the Little Planet with the intent of liberating it from the scientist's control. When he arrived, Sonic learned he could undo Robotnik's work by using Little Planet's time passages to change the planet's past and by collecting the mystical Time Stones, Robotnik's reason for attacking the planet.
Shortly after his arrival, Sonic met a female hedgehog named Amy Rose, Sonic's biggest fan and want-to-be girlfriend, who was on the planet in hopes of meeting him. Sonic, however, was far from excited to meet her and found her overwhelming interest in him annoying. However, only moments after Sonic met her, as they arrived at Collision Chaos, she was captured by Metal Sonic, the newest creation of Dr. Robotnik, which was built to outmatch Sonic in every way and defeat him for good. As Metal Sonic successfully escaped with Amy, Sonic now had the task of saving Amy as well.
Using his unrivaled speed, Sonic traveled through time and ensured a good future for the Little Planet. But as he neared end of his adventure, Sonic encountered Metal Sonic and the doctor once again, and had a race with his robotic counterpart on the Stardust Speedway and was victorious, saving Amy from captivity. Sonic went on and defeated the doctor in a final battle, but once the doctor was defeated, his bases began exploding, but Sonic managed to escape them and the Little Planet with Amy safely.
Community content is available under
CC-BY-SA
unless otherwise noted.